Hardscape Design and Installation in New Jersey
We install fire pits, outdoor kitchens, patios, and more in New Jersey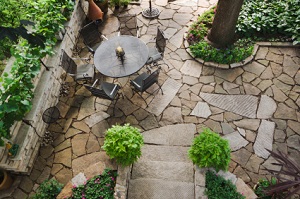 Backyard patios are a great place to relax or entertain friends and family.
If you're looking to create the backyard of your dreams, hardscapes are one of the best options available. Hardscapes are stone structures that provide long-term additions to outdoor spaces, giving you the option of creating a custom space that suits your needs.
At Quality 1st Concrete, we provide complete hardscaping design and installation services. Our experts will work with you to develop the right features for your home, giving you a finished product that looks great and you can enjoy for years to come.
If you're interested in adding a hardscape feature to your yard, give us a call at 1-855-246-4278 or click below to get started. We offer free estimates in Elizabeth, Newark, Edison and throughout the surrounding areas.
Choose the right hardscaping feature for your needs
Fire pits: A fire pit is one of the most popular additions, as it creates a great outdoor place to entertain friends or relax with family, even when it gets cooler.
Outdoor kitchens: An outdoor kitchen is a unique feature that's perfect for having friends and family over. These kitchens can come complete with all types of appliances and seating, making it the ideal outdoor hosting space.
Patios: Patios are another popular choice that makes it easy to enjoy the outdoors. Adding a patio is also a great way to improve your home value.
Walkways: Every hardscape needs a walkway connecting it to the house, while a new front entryway can make a great first impression as well.
Gardens: Making a hardscape part of your garden is a great way to have it stand out from the rest of the yard and creates a great finishing touch.
Retaining walls: Retaining walls are the ideal way to create separation between different features of your yard or smoothly transition between levels. We can design and build a custom wall that fits your yard and other hardscaping features.
Pool Decks: Adding a pool deck to your yard adds permanence, to your pool. Protect your lawn from getting muddy from splash zones to keep your landscape lush and beautiful.
Upgrade your home with hardscaping features today
If you're looking for a hardscape that makes an impression and gives you the function you need from your yard, Quality 1st Concrete is here to help. We will help you create the perfect design for your home and give you a finished product that fits all your needs.
Call us today to get a free estimate on fire pits, patios, and all other types of hardscaping features. We offer all our masonry services in Elizabeth, Newark, Edison, Union, Woodbridge, Perth Amboy, New Brunswick, Linden, Old Bridge, Plainfield, and throughout the nearby areas.
Looking for a price? Get a no cost, no obligation free estimate.